Digitization, Interpretation and Archiving of the results obtained with the IDRing® plates (SRID Tests)
---
Single Radial ImmunoDiffusion (SRID) is very easy to use analytical method. It is used in many industries (pharmaceutical, veterinary, food processing, biotechnology) to quantify target proteins and to perform batch releases.
In order to comply with the standards of quality and to traceability requirements in the laboratories, IDBiotech has developed an innovative digital technology: the IDRing® Technology.
This technology is based on the following elements: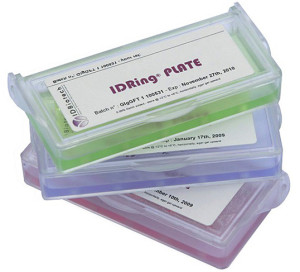 SRID assay plates IDRing®
The IDRing® plates have exclusive technical characteristics:
Saving time for the operator
Diffusion time below 20 hours
Interpretation immediately after the diffusion step
No coloring step
Sensitivity of the order of micrograms / ml for most proteins
CV% less than 5%
You will find all our IDRing® assay kits in the section GTP Immuno products
IDRing® Viewer plate reader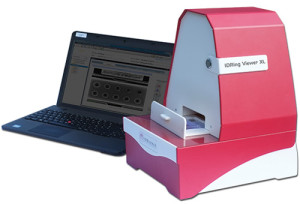 This system provides an optimal digital picture of the results obtained with the IDRing® plates.
IDRing® Meter Software
The software scans the plate, detects wells and automatically measures the ring diameters of the precipitates. Then, the results are automatically calculated, edited and archived in a report file. The results can also be transferred to an Excel file.
---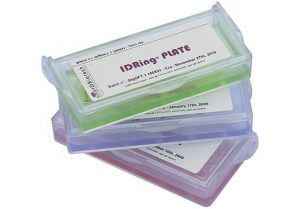 The IDRing® Technology has many advantages:
Economic method
Analytical accuracy
Full traceability
Automatic Calculations
Operator time saving
Security (no data transfer error)
Automatic Calculations
Computerized archiving of the results (Back-up – Restore)
---
We can also industrialize your own tests in the format of the IDRing® Technology or even develop a specific test according to your specifications.
See Our Services and do not hesitate to contact us if you have a project!